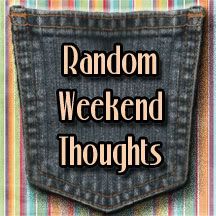 1. Getting out shopping by myself is a nice treat
2. Finding a bathing suit that fits and on sale feels even better
3. Working together with Richard to plan my first Tasty Tuesday post is fun
4. Getting Blake and Colby's hair cut with little fussing was a great treat!
5. Watching Colby sit in the barber's chair all by himself enjoying getting his hair cut was a treat... and then I kicked myself for not bringing my camera
6. Finding some great bargains while shopping is always the best way to go! I got shorts for the boys at Kohls for less than $4 a pair.
7. Colby is finally over the hives... no Benedryl and no hives today... YAY!
8. Being woken up at 3:00am two days in a row is NEVER a fun thing!
9. I can't believe that it is August already.
10. Hope everyone is having a great weekend!