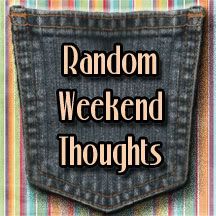 You know you are a parent of toddlers when....
1. You have 2 alarm clocks: 1 that makes music or buzzes to wake you up and the other that cries, screams, talks or babbles to wake you up
2. You don't set alarm clock #1 on the weekends and hope clock #2 doesn't go off until after 7am
3. You think 7am is sleeping in
4. You have priceless works of abstract art on your refrigerator
5. The whole top shelf of your fridge is filled with milk
6. Seeing cheerios on the floor is a normal sight
7. Getting a weed as a gift is precious
8. Your entertainment center drawers are filled with trucks, puzzles, balls, musical instruments, and other assorted items that have nothing to do with watching tv or listening to music
9. You've mastered jumping over gates to get around the house
10. Seeing sippy and straw cups in every room of the house is a norm
I could go on and on and on... but what are the things that make you go... yep you are a parent when...???