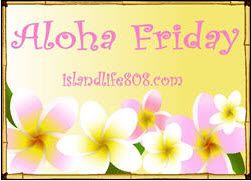 "Welcome to this week's edition of Aloha Friday.
In Hawaii, Aloha Friday is the day that we take it easy and look forward to the weekend. So I thought that on Fridays I would take it easy on posting, too. Therefore, I'll ask a simple question for you to answer. Nothing that requires a lengthy response."
If you'd like to play along, head over to An Island Life and join in the fun
My question: Do you like to make new meals to serve to your family??
My regular followers know my answer to this question,... YEPPERS. Every Tuesday I post "Tasty Tuesday" new recipe that I tried with my family and our review of the meal