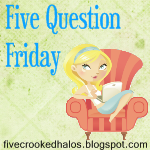 I had fun participating in this last week, so here we go again. Make sure to pop over to
My Little Life
to see what everyone else has so say.
1.
Have you ever hit an animal with your vehicle?
No... and I hope I never do!
2. When you see a string on your clothes do you pull it off or cut if off? Depends on the where the string is and what article of clothing it is. For the most part I will just rip it off, but some things you have to cut or else you'll destroy the clothing

3. Did you have your own room or share a room when you were young? Nope, it was just me and my brother and we had our own room.

4. Would you rather wear the same thing for the rest of your life or eat the same thing for the rest of your life? hmmm can I tweak the thing I'm eating? If I could eat chicken every day, but flavor it differently I'd do that or pasta... that would work too. If I had to eat it the same way all the time, I might have to choose the outfit, and hope it's something comfortable!

5. What was your favorite TV show as a child? That is hard. I think it depends on the age. I was a Sesame Street child. I also liked a lot of the Saturday morning cartoons. Then there's the Brady Bunch. Hmmm not sure but I know there were lots of others too.