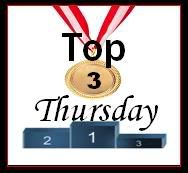 I decided to try this out this week because I liked the question. Each week,
The (Un)Experienced Mom
and
Confessions From A Working Mom
will pick a category, then ask you to share your Top 3 thoughts on it.
This week, they want to know...
What are the Top 3 reasons why you blog?
1. I started blogging to write about how being a teacher influenced my life as a mother. I do inject this into my posts from time to time, but not all the time. I think it has become more of an outlet for what's on my mind.
2. It gives me an opportunity to share pictures and videos with friends and family. It also lets me chronicle the changes in the lives of my sons. As well as a creative outlet from time to time.
3. I think one of the biggest reasons I blog is the connection with other moms. Most of my readers are mothers. Many of my readers are stay at home moms. And... surprisingly many are Teacher turned Mommies. And what better way is there to connect with them then to write about the adventures in Mommy-hood!