Colby and I stopped at the grocery store on the way home from the Y. At our grocery store they give out balloons at the cashier. The boys don't always ask for one, but today Colby decided he wanted a balloon. So he asked "balloon please" Then asked for the "orange one". When the balloon was handed to him I noticed that there was a label on the string.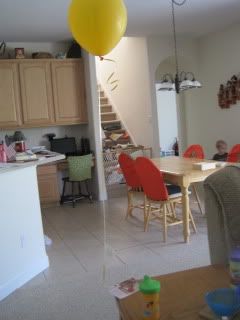 They usually attach a card to the bottom to keep them from flying away, but this was a label and it was part way up the string. I quickly looked at it... it was a warning label. Yes, you read that right there was a warning label on the balloon.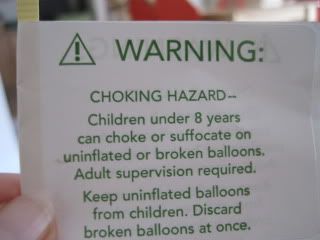 It made me chuckle a bit and then I was sad. Come on... are we really going there? Did someone threaten to sue because they didn't know how to parent and let their young child put a balloon part in their mouth? This just boggles my mind. When did the world get that bad that we need warning labels on balloons???
Is it just me or is this tooooooo much??