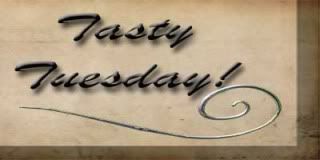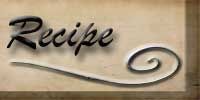 I had bought a bag of cherries and then realized that I would be the only one in the house eating them. That would have been fine if I hadn't also bought peaches and plums that week which I would also be the only one eating. The boys and I were going swimming with a friend so I decided to search Google for a recipe for Cherry Muffins. I decided on
Cherry Muffins with Crumb Topping
.
Cherry Muffins with Crumb Topping
MAKES 16-18 MUFFINS
INGREDIENTS
CRUMB TOPPING
• 1 cup all-purpose flour
• 3 tablespoons light brown sugar
• 2 tablespoons granulated sugar
• 1 teaspoon baking powder
• Pinch of salt
• 6 tablespoons unsalted butter, melted
•
MUFFINS
• 1 3/4 cups all-purpose flour
• 2 1/4 teaspoons baking powder
• 1/2 teaspoon salt
• 1 cup granulated sugar
• 2 large eggs
• 1/2 cup canola oil
• 3/4 cup whole milk
• 1 teaspoon pure vanilla extract
• 1 1/2 cups pitted sweet cherries (try to use 2 cherries per muffin)
•
DIRECTIONS
1. Preheat the oven to 375°. Line 18 muffin cups with paper or foil liners or spray 2 muffin tins with cooking spray.
2. MAKE THE CRUMB TOPPING: In a medium bowl, combine the flour with the brown sugar, granulated sugar, baking powder and salt. Stir in the melted butter, then pinch the mixture until it forms pea-size clumps.
3. MAKE THE MUFFINS: In a medium bowl, whisk the flour with the baking powder and salt. In a large bowl, combine the sugar, eggs and canola oil and beat with a hand held electric mixer at low speed until combined. Beat in the whole milk and vanilla. Add the flour mixture all at once and beat at low speed until the batter is smooth. Stir in the cherries.
4. Spoon the batter into 18 of the cups, filling them about three-quarters full. Sprinkle the crumb topping on top of each one and bake for about 30 minutes or until the muffins are golden and a toothpick inserted in the center comes out with a few moist crumbs attached. Let the muffins cool in the pan for 10 minutes before serving.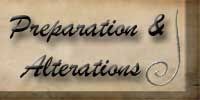 I did make some alterations to this recipe which I know will shock most of you since I usually say I don't change baking recipes. All the changes I made were strictly for flavor reasons. I added cinnamon and nutmeg to the muffin mix itself. I also added cinnamon and ground clove to the topping.
I chopped the cherries in half and put 3 pieces into each muffin and one on the top of each.
As per the request of Blake, I also made some muffins with no cherries and some with no cherries and no topping.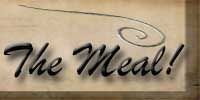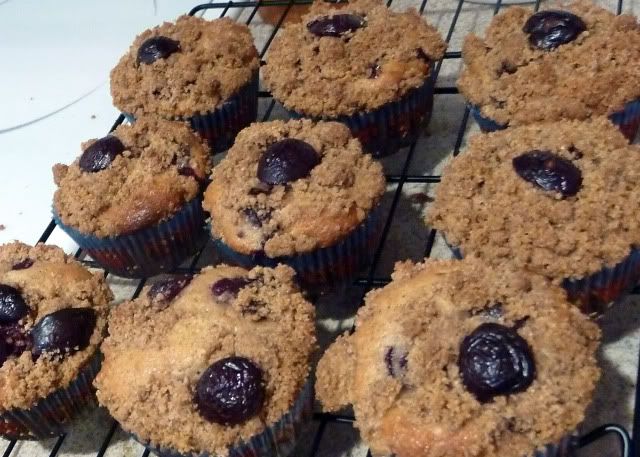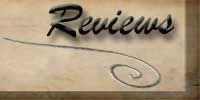 These muffins were good. I think I may have over cooked them a bit since they were a bit on the dry side for me. I wished I had chopped up the cherries more so they went through the batter. My original intent was for the cherry to be in the middle of the muffin, but I had help putting them in so they ended up in three different spots and just weren't enough like that. The topping had really good flavor.
When we went swimming Blake ate one with no topping or cherries (actually he ate all 3 I made that way eventually), the little girl devoured the one with topping but no cherries, the other little boy tried one with cherries, but wasn't crazy about it. The other mom really liked them. I sent a lot of the leftovers home with her since I had more at home.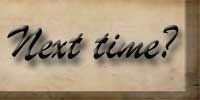 Next time I would chop the cherries up into bite size pieces. I might make them again just as cinnamon crumb muffins.