I haven't posted a how to help your child post in a while. My last few focused on reading, but just as important as reading to learn to read is learning to write.
Children go through functional levels of writing.
The first time you see your child write most likely you will see a bunch of scribble lines. This is the first step in seeing that writing is connected to words.
Then you will often see your child make shapes or letter approximations. This shows they they understand that symbols have meaning.
Then next step you will often see is random letter that have little to no connection to the picture. This show that your child has learned that letters are connected to words.
The next you will see them string random letters together. This show that they are understanding that there size and spacing of words.
The next step typically is to go back to single letters, but this time the letter should be in the word they are "writing". As teachers we encourage the beginning sound, but when they do it on their own some children write the ending sound. This shows that your child understands that the sounds they are saying in the word is connected to the letters they are writing. In this step they typically just label the picture.
The next step is to string together the phonetic sounds they hear in words. For example if your child is writing the word table they would write it as "tbl". Children will typically add the ending sound then begin to hear the middle sounds. Vowels are usually absent unless they are the beginning sound. They also typically continue to just label the pictures at this stage.
The next step, which has to be encouraged a bit, is to begin writing in sentences. They typically squish all the words together and have to be shown how to add spaces between the words. But this is the big step into transitioning to conventional print.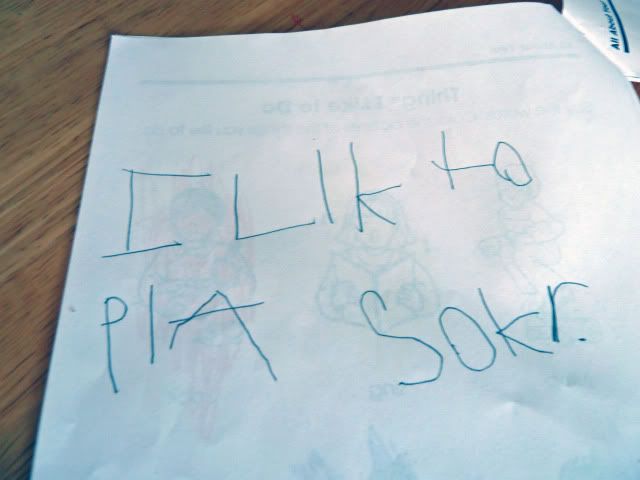 Tomorrow I will continue with this post by showing you how you can help your child progress through the stages. So next time you see your child writing random letters, realize they are writing.