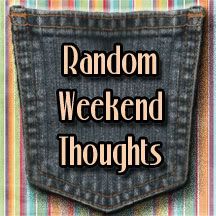 1. Having relatives over is always interesting
2. The boys and I met Richard for lunch the other day, it went a lot better than we thought... which is always a good thing
3. Baking brownies with butterscotch chips is a great idea, except when they don't bake enough
4. Salvaging the brownies by utilizing them in a trifle... now that was smart if I dare to say so myself
5. Seeing the forecast for the next week as having 40%-60% chance of showers every day... guess we can turn the sprinklers off again
6. We get to pick up Colby's bureau tomorrow... now where in the world I'm going to put it in his room is a good question!
7. Taking the boys over to a friends house for a cookout and having them do a great job behavior wise makes it easier to decide to do it more often
8. Getting out for a walk as a family is always enjoyable
9. Playing games on facebook is addictive!
10. Must start thinking now about next week's random weekend thoughts the 4th of July edition... can you believe we are almost into July??