Head over to My Little Life... grab the 5 questions and post your answers on your blog. Link back to her MckLinky and go blog hopping to see everyone's answers.
This week is something special...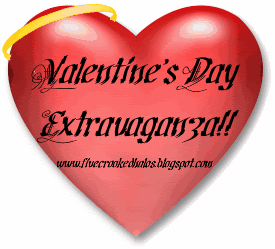 1. What is the one thing your love does for you that you can't live without?
Richard does a lot of little things for me. I think one my favorite things is his phone calls. I talk to him every day on his way home from work, this is our chance to reconnect and check in with each other on how the day was. But, it is the random calls during the day that means the most. On days that he knows the boys are having a rough day or I haven't been feeling well he tries to make time during the day to just call home and check in.

2. When did you know your love was "the one"?
I'm not sure of the exact moment when I knew he was "the one" but it was early on in our relationship. I felt comfortable with him pretty much from the start and felt a strong connection. We talked a lot and it was a pretty good match. We learned early on that we were different enough to keep life interesting, but similar enough to have things in common. We also talked about a lot of the big issues of relationships early and once we got through some of that... it was headed towards marriage.


3. Does your love have a special ringtone on your cell?
Not on this phone. He did on my other phone, but I don't think I did on this new phone. But, I don't use my cell very much sooo


4. What are you attracted to most in your special someone?
I don't think I can pick one thing that I'm most attracted to. I do love his connection with our sons. He hates when he can't spend time with them and feels guilty for working late and missing out on the time with them. I love that he realizes that I am doing all I can to make life peaceful for all 4 of us, but there are times when I just need to escape and get out of the house alone.
5. Did you know when/where he/she was going to pop the big question?
We went ring shopping for a while to find the "perfect ring". He wanted me to try on rings to see what size diamond and what shape I wanted. I had guessed when he was going to ask me, but it was still a shock. We had a meeting with some hotels the next day to make arrangements for our wedding... yes we were making wedding plans before we were officially engaged.