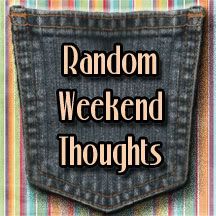 Wow I haven't done this in a long time. I thought I'd revive Random Weekend Thoughts. I used to be a favorite of my readers...so he we go
1. Started potty training again with Blake... day one went... well it went. Let's hope the changes I've made helps day two.
2. It is disappointing when you see s day with 87 hits on your page, but only 6 comments... guess those 6 people are the only ones who really love the blog?
3. Looks like I will be posting the recipe for the Tropical Lime Cookies for my Tasty Tuesday recipe.
4. Richard traveled at the beginning of the week, I never sleep as well when he is away, and the boys don't understand why Daddy won't be home.
5. It is nice to have two weekends in a row without sick kids... can this continue? Man I hope so!
6. I'm thinking of making a list each night for my goals for the next day. I figure if I make a short list of accomplish-able goals it will make my day more focused and define success for the day. Thank you to "Bee" for this thought. She does it on her
blog
.
7. Summer means changes in routines, but I think we've found a new happy... now if potty training take 400 (or however many times) works... well then the summer will all that much better.
8. When a 2 year old comes out and says "oops a mess" you know a disaster is in the making. At least, as one of my friends pointed out, Colby's messes have yet to involve Vaseline like Blake's did.
9. Next week is 4th of July, hmmm what to do what to do... I know rest, relax and be glad that Richard gets the 5th off.
10. Time to go clean up another mess, or convince someone to pee on the toilet, or fold laundry, or, or... orrrr....
Hope you have a great weekend!