Yes, I know it isn't Tuesday, but this isn't a new recipe to us either. I made these cookies this week because Richard requested them. He calls them the recipe he always says he doesn't think he will like, but loves to eat. Every time I ask him if he wants me to make this recipe he looks at it and says... no that doesn't sound good. Then I make it and he loves them. See sometimes the sum is a whole better than the parts (o: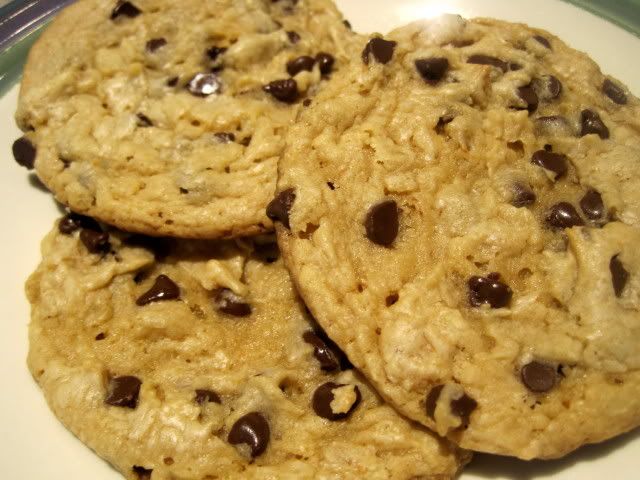 I got this recipe off the web, but I couldn't tell you where for the life of me since I copied the recipe into my recipe file and didn't save the link (oops!) I have switched the flavors of this recipe, but the picture above is the original combination. If you want to experiment you can change the cake mix, pudding and / or chip flavors!
Chocolate Chunk Oatmeal Cookies
1 pkg white cake mix
1 pkg instant butterscotch pudding
2/3 c. rolled oats
½ c. vegetable oil
½ c. sour cream
¼ c. water
2 tsp. Vanilla
1 c. semisweet chocolate chips
Preheat oven to 350
Lightly grease cookie sheets
In a large bowl, stir together cake mix, instant pudding, and oats. Add oil, sour cream, water and vanilla; mix until smooth and well blended. Stir in chocolate chips.
Roll dough into 1 ½" balls and place 2" apart on the prepared sheets
Bake 8-10 min in oven. Allow cookies to cool on baking sheet for 5 min before transferring to wire racks
Makes 2 dzn.
Enjoy!