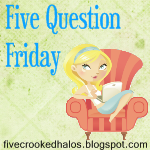 I haven't participated in Five Question Friday in a long time, but when I read the questions on Jen's blog 3 Little Monkeys, I decided to jump back on the bandwagon.
Want to join in? pop over to My Little Life and grab the questions... post your answers in your blog and link up to read others responses to these questions.
1. Do you open presents on Christmas Eve or Christmas Day?
We open on Christmas day. When Richard and I first got married we did it on Christmas eve, but now that we have children we do it on Christmas day. We usually do 3 Christmases so we try to spread them out and not have all the presents and craziness on one day. We are actually doing Christmas with my family tomorrow.
2. What is your favorite Christmas cookie (or candy)?
One... you want me to pick one? Umm probably peanut butter blossoms, which I'm not actually making this year. I do make these through the year so I guess I don't always think of them as holiday cookies. So maybe I should say snowballs, those I only make at Christmas time (again not making them this year...lol)
3. What's the worst Christmas gift you've ever received?
Hmmm this is hard... remember I was a kindergarten teacher, there were so many with that job. We actually had a running joke in the kindergarten wing to see who got the worst gift each year... and sadly I almost always won.
4. Christmas song that you love?
That depends on my mood. My favorite old school song is O Holy Night, when sung right it is soooo moving!
I also loveeeee
Christmas Canon
by Trans-Siberian Orchestra. This song makes me stop and listen whenever it comes on the radio.
5. How many trees do you put up?
We have two trees a big artificial tree in the house and a short real tree outside our front door. It's a compromise, Richard grew up with real trees, I grew up with fake ones. We have 11' ceilings in our living room so to buy a real tree big enough every year would be EXPENSIVE! So we get a 5' tree to put outside our front door, then the mess stays outside and he can get the smell as he walks in the house.