I decided it was time to check out 5 Question Friday again. Want to play along? Head over to My Little Life, grab the questions, answer them on your blog and then link up!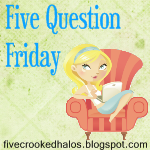 1. Do you know what your REAL hair color is?
Ummm I'd have to guess somewhere between dark blonde and light brown, but not sure what you'd call it.
2. Do you plan ahead for summer, or fly by the seat of your pants?
A combination of both. If we make travel plans we do it ahead of time, the rest is fly by the seat of my pants. Not sure we will travel this summer with the prices. But Blake will be playing T-ball and I plan to sign up both boys for swim lessons too so that will take time too.
3. What is your favorite meal to cook?
Hmmm that's tough. There are so many options to choose from. Maybe something like chili which I can alter and make anyway I want? Or maybe it's more like spaghetti and homemade sauce? Or something simpler like quesadillias. Guess I just don't have one favorite meal to make. Maybe it's more like what ever I'm craving at the time?
4. Do you get offended by not receiving thank yous?
Depends. If you say thank you to me, then no. But, if I don't see you open the gift and I think there should be some kind of thank you.
5. How did you meet your best friend?
Right now I guess my best friend is my husband, so the answer to that is he bought my number for $20 at a sports bar.