The boys are feeling a lot better and therefore getting along much better, as is evident in the many pictures of the two of them together.
120/365
Time for another soccer game. They only had 5 players so Blake played almost the whole game. He didn't score, but hey he played well.
121/365
Richard was gluing together Blake's K'nex monster trucks so the bodies won't fall off every time you touch them
122/365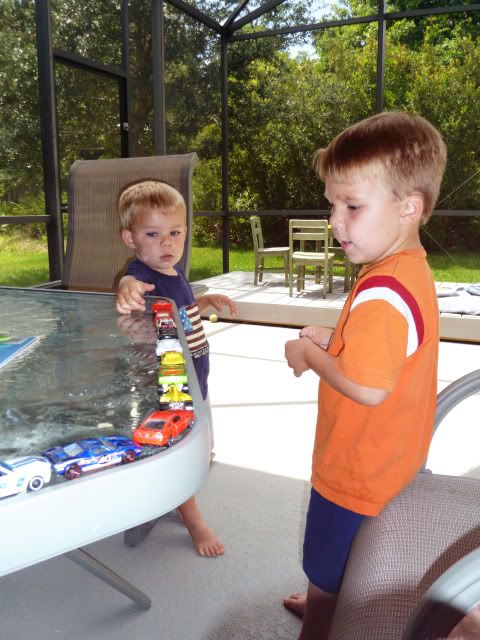 After lunch the boys decided to play with their cars on the porch table
123/365
I love this one! I found Blake and Colby sitting on the couch. Blake was reading a book to Colby, well he was singing one of the songs at the moment I took the picture, but he read him the story before it first.
124/365
Soccer practice was canceled but we decided to go to the field to play for a bit anyway. The boys had a blast. Colby spent more time running in the mud puddles than kicking the soccer ball.
125/365
I made homemade french rolls for Thursday and Friday's dinner. The boys were helping with the egg wash
126/365
A friend we've made at the playground invited us to go swimming with them at the pool in her neighborhood. It ended up being a bit chilly for swimming, but the boys had fun even if they had to huddle up to warm up for a snack.