Can you believe another quarter of the year has passed? Guess that means the year is half over... EEK! Here is my top five pictures of my guys from April, May and June. Hope you decide to join in the fun, or at least pop over to
Naptime Momtog
and check out some of the other great child photos.!
(These pictures are in reverse chronological order as I didn't want to rank them.)
I really like this moment I captured. They had stopped for a moment to discuss where they were going to ride to next. You can really see how much Colby is listening to Blake.
This is a scene I see many mornings. They like to bring out Monster Trucks, trains, race cars or anything that rolls and play with them on the driveway after saying goodbye to Richard in the morning. I like the attention you see on their faces as they watch the truck drive down the driveway (good thing it is sloped!)
We had gone on a bike ride to the local park. The boys really wanted Richard to swing with them, and he was trying to help Blake learn to pump the swing on his own. I caught this picture that was dark because of the sun angle, but when playing with it on PSE it came out even better.
Can you say eyes! I love getting up close pictures of Colby's eyes. The crispness of all the colors in this picture just pop his eyes even more. And yes, I too am jealous of those lashes!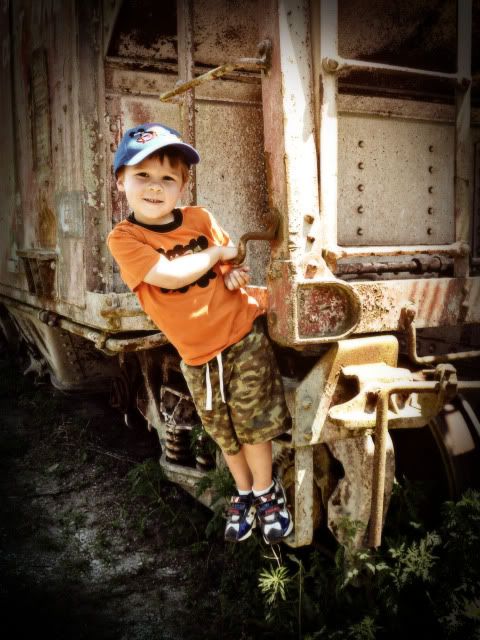 We went to the train museum to see Thomas. They had a whole bunch of train cars for people to look at. I automatically saw a photo opportunity. Blake was a willing model for them. I'm not usually into posed pictures with my boys, as is evident in my photos, but I really liked this picture of him.
Hope you enjoyed a short trip down memory lane with me. If you leave me a comment, I'll be sure to pop over to your blog too