I was looking for a different project on-line and came across this art project to make
marbleized photo mats
. I thought it looked really cool and lots of fun.
You will need:
shaving cream
paint or food coloring
something to stir with
cookie sheets
spatula
art smocks
put the shaving cream on the cookie sheet and spread it out in an even layer. (they suggested doing it with the spatula, but me...)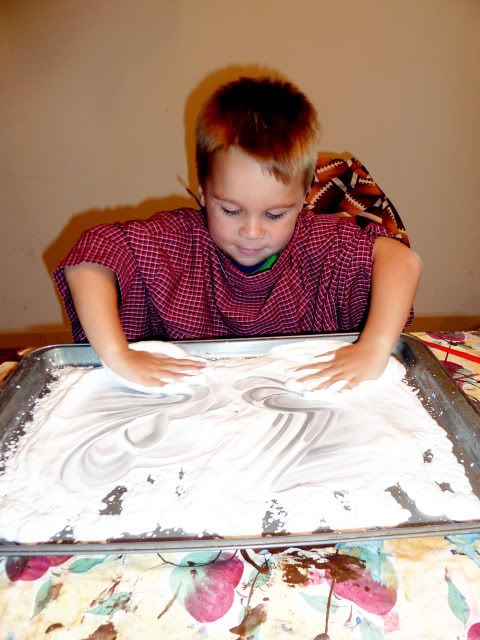 They suggested using food coloring, but I decided to water down some tempra paint and use that instead. Put dots of color through the shaving cream. I used 3 colors to begin with. Then swirl the paint into the shaving cream with a toothpick, I chose to use the back of a paintbrush instead.
When you get the mixture that you want, not too mixed up, just swirled together, lay your paper on the mixture. When you pick it up, scrape the paper off with the spatula.
Repeat as wanted. I added more colors after a few papers. Eventually the shaving cream got too muddy, but the boys still had a blast. Check out project 365 on Sat to see the after effect!
This project was very cool and lots of fun. I want to do it again at Easter time to make paper Easter eggs.
******
We decided to try another science experiment this week. The premise of the experiment was that you made a paper boat, as seen in the pictures. Then you put "detergent" in the slot and the boat should move on it's own. This is because the soap should break the water tension and move the boat across the surface. But I will tell you that it did not work for us. Oh well
I decided to switch it up and make it a lesson on sink and float since well we already had the water set up. The boys went around and found some object that we didn't mind getting wet and tested out if they would sink or float.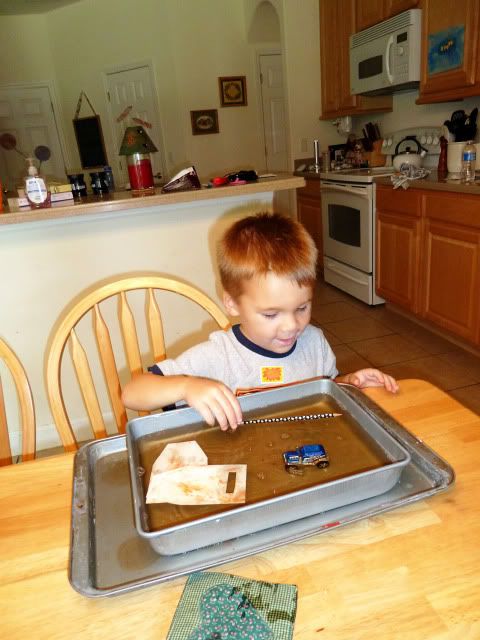 They really enjoyed this part of the project. It was fun to see the thought process behind what they thought would sink or float. I need to do it again on a larger scale, but they enjoyed it.
*****
I picked up a couple of coloring kits at JoAnn's fabrics one time. Got to love the $1 section. We had a friend over so I pulled out the cars for the boys to color.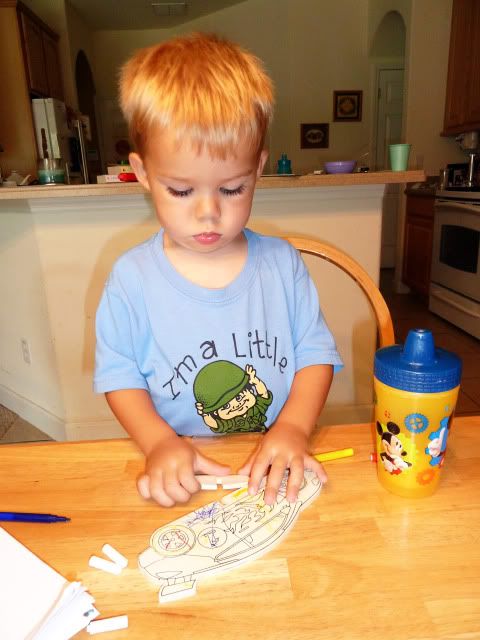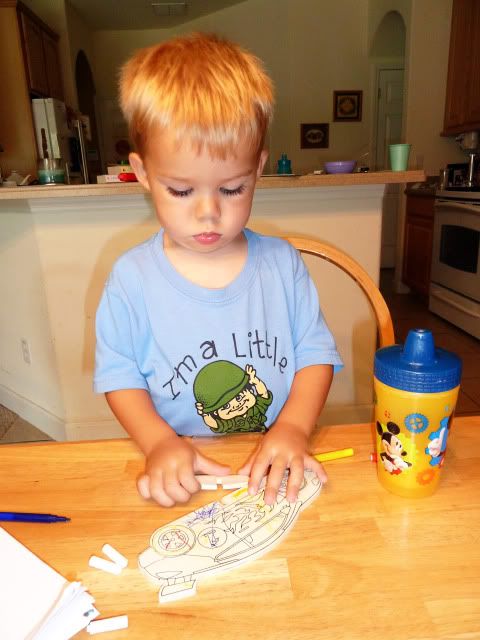 *****
Our other project this week was to make brownies from scratch. Anything can be a learning project!
Hope you had fun doing great projects with your kiddos this week. Let me know if you try any of my projects with your children.