Blake was working on shapes at school so I decided to do some shape activites this week. I was under the weather for a lot of the week, so we did very basic activities.
I brought down my tote of pattern blocks and let the boys play and explore with them.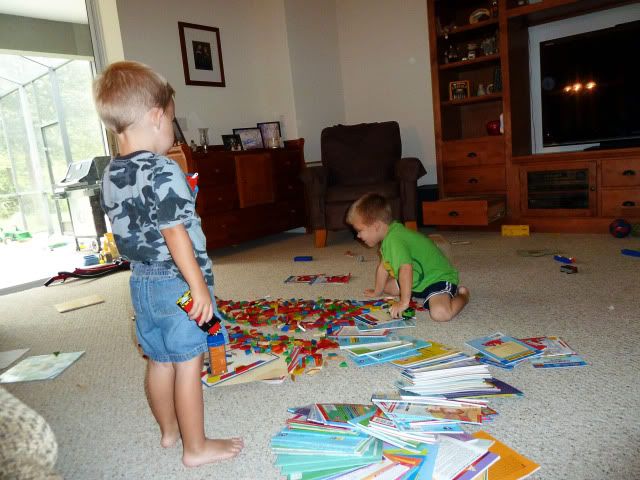 Yes, the dumped them all out of the floor... of course! I did sit down and talk about the different shapes with them. It was a review for Blake and an introduction to a few of the shapes for Colby. In pattern blocks there are: triangles, squares, trapezoids, and two different rhombuses (the mathematical term for a diamond). We also discussed sides and angles.
Blake had a homework assignment to create a picture with paper shapes. Of course I turned it into a project for both boys.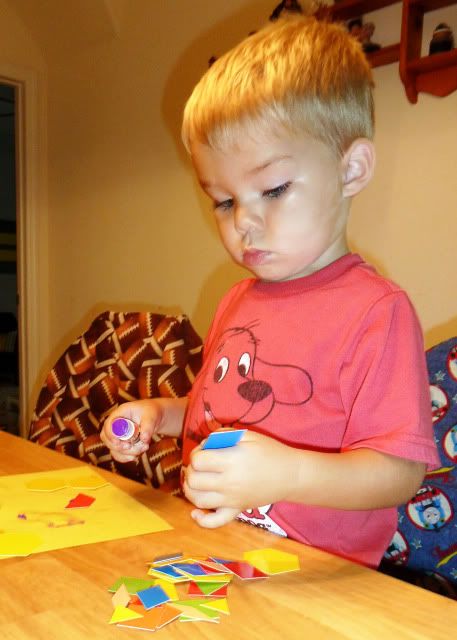 Blake had to tell the teacher what he decided to make for his picture. He wrote "It iz a dezin" (It is a design) They had fun gluing the shapes and we again reviewed the shapes. This time they also had circles and rectangles.
We then decided to take that project another step the next day. Again the boys made a picture with shapes. They then painted the whole paper over with watered down paint. When it was dry we removed the shapes. I watered down the paint too much so it bled more than I wanted, oh well... process vs. product!
I was going to do another project on Thursday, but it was actually nice outside for a change. The boys took it on themselves to go out and play together in the sandbox. I could not be happier! And sometimes the best project is the ones they devise themselves. They took a few monster trucks outside and created a stadium with jumps and everything. They played well together using their imaginations and begin creative!
Hope you had a fun filled week!