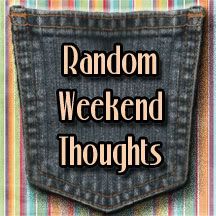 1. It is neat reconnecting with people I haven't seen since the 90's... the internet is a wonderful thing
2. I can't believe the Colby is almost 1!
3. I appreciate all the support I've received via my blog in regards to Blake's speech. People who know me well know that I understand that none of this is my fault, but I'm a perfectionist, I'm a teacher, I'm a mother, I'm Lori... I always feel like I should have been doing more and should be doing more now. I want it fixed, but I'm also a realist who knows it is slow process and he is making progress and he WILL get there!
4. Rain... Sunday, Monday, Tuesday, Wednesday, Friday, Saturday... need I say more?? (offically 7.57 inches not including today!)
5. Blake had a blast playing in the
puddles
this week... if you didn't see the
video
of it yesterday check it out!
6. Ghirardelli Ultimate Fudge Brownie... yeah if you have never tried them you soooo need to go buy a box right NOW!
7. In the month of May so far Richard has had TWO days off... yeah that's it! One to celebrate my birthday and then Mother's day... and he will be working for the next two weekends too... I think. It's hard, but at least he has a job... and job security!
8. I went to the grocery store by myself today... when did that become a treat?
9. Richard put a computer on the floor in the playroom for the boys... oh boy is Blake psyched about this
10. A food processor is a wonderful toy! Plus now I don't have to splurge to buy shreds or shredded cheese or.... now I just need to find some more cool things to do with it (that was my b-day present from Richard). Between that and the crock pot, meal prep is easy!
Hope everyone is having a great weekend and gets to enjoy the long weekend (refer to #7 if you want to know how we are spending ours... yeah at home!)