224/365
As I mentioned last week, this is last Friday's picture. I bought a new pair of workout shoes. I have been having some ankle issues, so I wanted a new pair of cross trainers. I did a bit or research and think that these New Balance are what I need. I also picked up a pair of turf shoes. I've offered to be one of the coaches for the boys soccer team. I wanted something to wear that has a bit of a cleat, but not a full cleat to have good traction while playing with the kids.
225/365
We had a Back to school/football kick off party on Saturday. After most of the people left we were sitting around talking to another couple about tailgating. Colby grabbed one of his Thomas books and was "reading" it to himself. I thought it was a great picture (and one of the few I took that day)
226/365
The boys love playing with my old school stuff. Here Blake is playing with a set of attribute blocks. This was his building.
227/365
Blake wasn't feeling well so we decided to have a quiet day. We made a huge train track that took up our whole living room floor. Colby was beyond happy.
228/365
Took Blake into the doctors and found out he had an ear infection and they were very concerned about his cough, so back on the nebulizer he went.
229/365
Blake had meet the teacher. He was very excited because he is in the room he had last year with the teacher he had over the summer. There aren't any kids in his class from before, but I'm not worried he very quickly slid into playing with a lot of the kids. As you can see he jumped right into playing.
230/365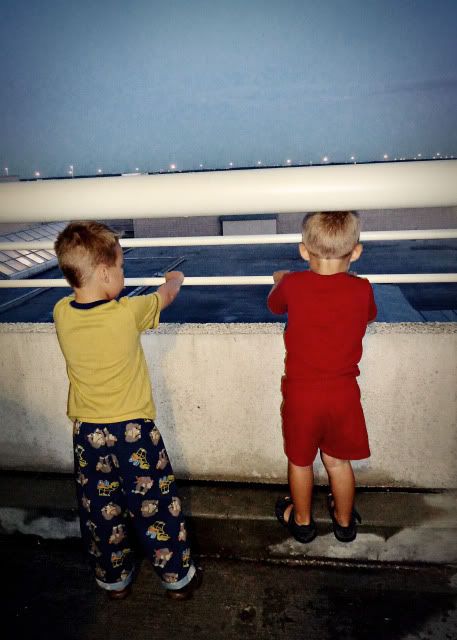 We were up VERY early to take Richard to the airport. After watching Daddy go on the tram to the airplane the sun was just coming up. When we went to the parking garage the boys asked to look to see if we could see any planes taking off. We did see 2 planes. I love this picture of the two of them.
231/365
oops guess what, I didn't get Friday's picture edited in time, oh well one of these week's I'll get back on schedule, but at least you get 7 pictures this week.
pop over to either of these two sites to check out some more great pictures.