Look... I posted on time! Ok I edited the pictures on Thursday night. Friday night the boys and I had to pick Richard up from the airport so it was a longgg day and late night. Then I only got a picture on my cell phone that day and I almost never remember to upload them to the pc. Sooo... you get 1 day short of a week. (o:
337/365
We went to Avalon Aglow on Saturday to see Santa. This is a yearly trip for our family. Hmmm I should do an over the years post on this. I gave you an extra picture since Richard actually captured a decent picture of me and I know I don't show up in many.
338/365
Hey look the boys were playing with the train track. I know there hasn't been a lot of pictures of this lately, but trust me trains are still big in this house.
339/365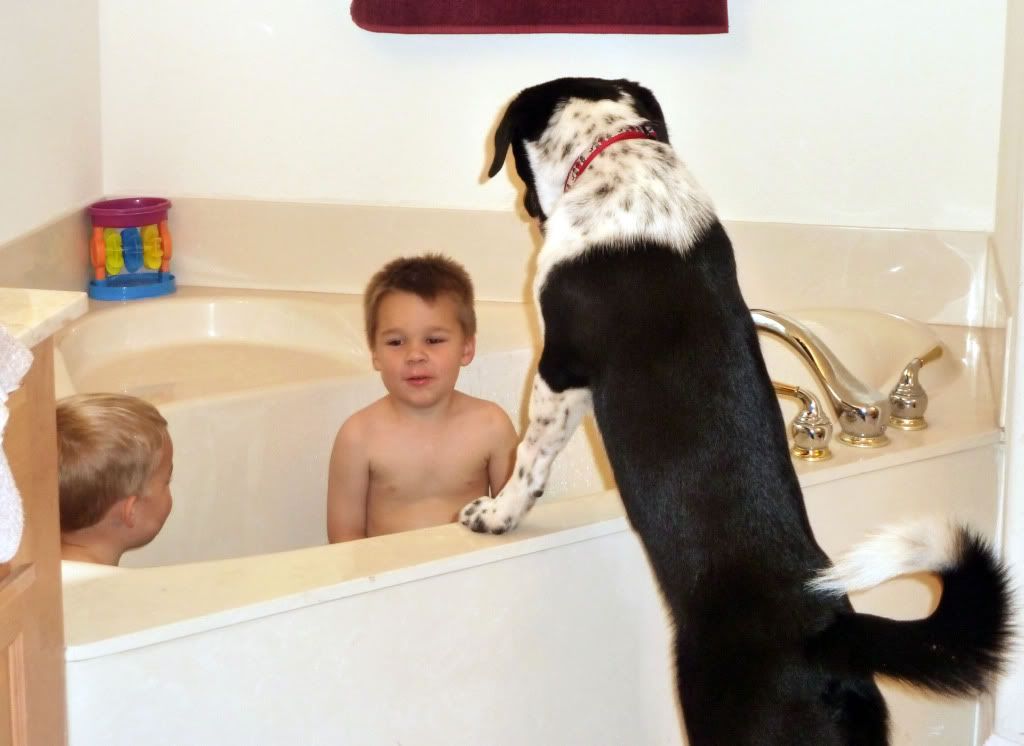 I don't think I've ever posted a tub picture before, but anyway... I couldn't pass up on this one. Dixie loves the water and on more than one occasion has jumped into the tub with the boys.
340/365
This is a site I see every day. We do workbooks every day in the afternoon. Blake does first grade books and Colby does preschool ones. They love workbook time. I can only hope they will love homework time??
341/365
The boys were finishing up an art project we did. We painted the hand print trees the day before. These came out super cute.
342/365
I was cleaning out my car. I actually took out the car seats to vacuum them and ended up taking them out of my car and Richard's truck and washing them too... yuck! Anyway, while I did that Colby decided to get in the front seat and put on the seat belt. I guess Dixie thought this looked like fun so she jumped into the passenger seat too.
343/365
I took a picture of the boys standing in front of the big Christmas tree at OIA (Orlando International Airport) and one of them wearing Santa hats with Mickey ears, but they are on my phone sooo you may never see them... hahaha!
pop over to either of these two sites to check out some more great pictures.