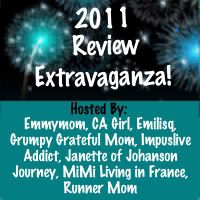 Grumpy Grateful Mommy
posted about the 2011 Review Extravaganza and I thought it would be fun. For the four Fridays in December they are having you review your year. It's a chance to look back on the good, the bad, and the ugly of 2011. Hope you enjoy this trip in memory, and take one of your own. Link up if you want!
The first segment is January-March 2011.
A friend of mine from MA was down in Disney so we surprised the boys with a
trip to the Magic Kingdom
!
The big excitement of January was a trip to see Monster Jam. Anyone who follows my blog knows my boys LOVE monster trucks. They had a blast. You check it out if you want to see them loving the show and many of the trucks on
my post
from that day. And yes we are going back in 2012 we already have tickets!
February brought about the boys
first trip to the dentist
. They did... ok!
We took the boys on a hike in the woods on one of the bike trails we frequent, ok Richard frequents. They had a blast. And I got some great photos. Check out the
post
to see more photos from that day.
In March, Richard and I had a weekend to ourselves and the highlight was a
bike trip
. We both have mountain bikes but don't often get to ride together.
We try to expose the boys to a variety of entertainment and
Mickey Magic show
was just up their alley!
The other really big thing that happened in that time frame was Blake's reading ability blasting off. It really hit me how smart he was in March. Read
this post
to see how and why.
Since this was also the year of my first project 365, I have to leave you with one last picture: