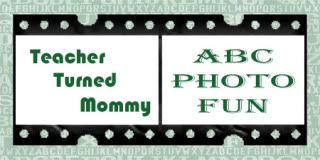 Something I've never done on my blog before is a link up. I decided that when I wasn't going to do project 366 that I'd do a photo link up on my blog. My thought was to do it for Wordless Wednesday.
Here are the rule... there are no rules. Want to join for a week or the whole alphabet, that's up to you. If you want to link back to my blog, I'd appreciate it, but you don't have to. I just want to have some photography fun.
Each week we will do a different letter of the alphabet. You can look for things that begin with that letter, a picture of the letter itself and/or something that forms that letter. You can post as many pictures as you'd like.
Also, if you do not want to post on your blog, or don't have a blog, then you can post your pictures on
Teacher Turned Mommy. not as easy as it sounds
on Facebook.
I hope you choose to join me in this photography fun project. I've added my button grab box on my side bar, grab that if you want it too. (You can even encourage your readers to play along, if you want)
So start taking pictures of things that deal with A. I'll put the linky up next Wednesday for those who want to play along.